Hi everyone....



I haven't had the right time to blog as both of our kids are having fever. Habibati is having the mouth ulcers and rashes on her body. My hubby and I are shocked at first, thinking that it is the Hand Mouth and Foot Disease (HMFD)...but thank God it is not. Then, Habibi too...caught by the high fever too but he doesn't develop any rashes and the mouth ulcers. So..our weekend was a sticky one!! Due to their conditions...they are very

cranky

...

clingy

...so the best medicine is to pamper them with.....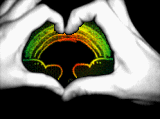 Praying for their speedy recovery...dear apples of our eyes...

Labels: fever